Are you dreaming about a career in nursing? Read this article to learn how to become a nurse, the required skills, average salary, demands and more.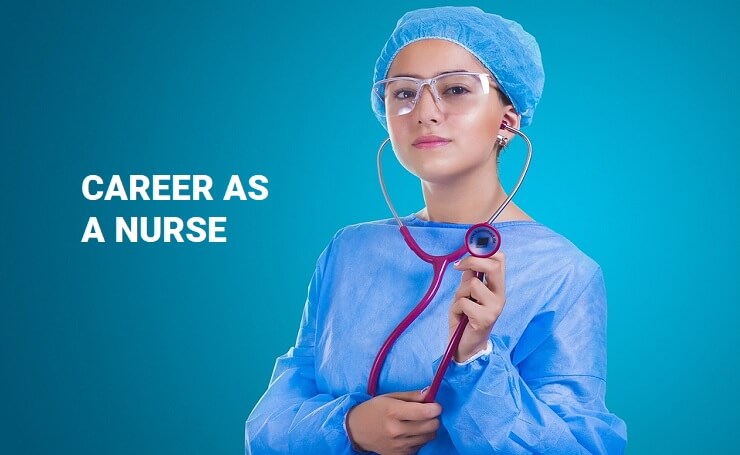 Nursing is one of the age-old professions that has always been in demand. This is a noble occupation where professionals take care of patients suffering from different kinds of psychological and physical difficulties. If you are eager to become a nurse, make sure that you read this to learn more about nursing jobs and how to become one.
Who is a Nurse?
A nurse is someone who has completed the basic education program and has relevant knowledge of helping people and assisting them. They are one of the most critical needs in the healthcare sector.
There are many nurses who also work as assistants to medical specialists. They help them in clinical laboratories and operation theaters by helping them with medical tools. Besides, nurses assist people who cannot lead a normal life while recovering from illness or due to other reasons. A career in nursing involves professionals supporting medical treatment.
In India, a career in nursing requires the professional to deal with different sectors of clinical care. As nurses practice with healthcare staff and doctors, they are considered the most required professionals. Nurses are primarily needed to understand the technical details and methods involved in health care.
What are the types of Nurses or Nursing Job Roles?
The largest sector in the world is the healthcare sector. Before you start your career in nursing, it is vital to have knowledge about the different types of nurses. So here we will take a look at the types of nurses and their primary duties.
1. Registered Nurses
Registered nurses are considered the primary nurses in the industry who communicate with families and patients and collaborate with doctors. Registered nurses are mainly involved with advanced treatment. They have a license with health care agencies and organizations where they collaborate with specialists and surgeons to conduct their responsibilities within the setting.
2. Nurse Practitioners
Nurse practitioners are another type of nurse who has more choices. A nurse practitioner can further choose to become a registered nurse to work closely with physicians, and they also can get certification in a specific professional area like pediatrics, family medicine, and critical care.
3. Neonatal Nurse
These nurses are registered nurses who have taken the training. They are primarily trained to take proper care of premature babies and other related problems. Neonatal nurses have the knowledge to provide lactation assistance to mothers and inform families about the way and how to take care of infants after getting discharged.
4. Clinical Nurse Specialist
Clinical nurse specialists are nurses who have the skill to diagnose and provide treatment within their expertise. Their primary role includes paying attention to the families and patients and handling administration or nursing departments.
5. ICU Registered Nurse
Intensive care unit registered nurses are provided with specific work. They have a defined function which is to take care of maintenance and medical requirements of ICU units in hospitals and nursing homes. They might or might not work with patients.
6. OR Nurses
Operation Rooms Nurses are also popularly known as Scrub nurses or Perioperative nurses. They are primarily responsible for taking care of patients after treatment or surgery.
7. Home Health Nurse
Home health nurses are again another type of nurse who provides medical support and help to patients who require professional nurses at their homes. The primary intention of these nurses is to take care of people or patients with development or mobility issues.
How to Become a Nurse?
If you are eager to start a career in nursing, you need to have proper knowledge of how to become a nurse. You can find staff nurse recruitment jobs available, but you need to make sure of being an eligible candidate. So here are the steps to becoming a nurse.
Candidates require passing 10+2 from any recognized institution with the primary subjects, including chemistry, biology, and physics. Candidates with diploma courses need to pass 10+2 with any subject combination.
The basic eligibility to become a nurse is to have 45% marks minimum in 10+2.
Candidates can take admission for the Auxiliary Nursing and Midwife course with the 10th board passing certificate having a minimum of 50% marks from recognized institutions.
In order to be admitted to postgraduate, diploma, undergraduate, or Ph.D. courses, candidates require a valid mark sheet for the entrance exam.
After completing the bachelor's degree, students can further choose to take a master's degree program with a specialization.
Popular Bachelor's Degrees to Become a Nurse
B.Sc.- Nursing
B.Sc. – Physiology
B.Sc. -Chemistry
B.Sc. -Microbiology
B.Sc. -Anatomy
B.Sc. – Nutrition
You can pursue a master's after completing your bachelor's.
What are the Required Skills to Get Nursing Jobs?
In order to become a nurse, it is crucial to have different skills. Here are some of the most common skills every nurse needs to have to become a successful professional.
1. Being Highly Professional
Every nurse needs to have moral and ethical values. A nurse needs to have professionalism in front of colleagues and clients. They need to respect people, be honest, and disciplined, and have good behaviour, which shows their professionalism in nursing jobs.
2. Time Management Skills
A nurse needs to put their job as the first priority and organize every other thing required to be done. A nurse also requires multitasking ability as they have to check the database and checklist and make sure of different elements within the setting.
3. Paying Attention to Details
As every patient coming has a different medical condition, a nurse needs to take their job seriously. They need to develop and pay attention to detail to understand the medical requirement of the patient and provide the proper diagnosis and treatment.
4. Compassionate
Nursing jobs require professionals to work with patients. They need to understand the challenges of families and patients and always need to maintain humanity. With good treatment, nurses must behave well and be compassionate towards their job.
What is the Average Salary of a Nurse?
The average salary for nursing jobs depends on the nursing agencies. Nurses who have recently started their profession might have a monthly salary of around Rs. 10,000 to Rs. 17,000.
Someone who has already gained a few years of experience will be provided with a salary between Rs.18,000 to Rs.37,000. However, experienced nurses in the critical domain can have a salary of somewhere between Rs.48,000 to 72,000 per month.
Apart from this, nurses who are in nursing jobs in Canada, England, the US, and other countries get to earn a huge monthly salary.
Demands of Nurses
As mentioned earlier, the healthcare sector is one of the growing sectors in India. With the growth in population, healthcare facilities have more demands and requirements, and so as nurses. All aspiring nurses have greater chances of getting a secure job due to the current shortage of nurses in the healthcare sector.
As per the current study, it has been estimated that the Nursing Council has recruited 10.3 lakh nurses. Most of the previous employees left the service due to immigration, marriage, and retirement. Only four lakh nurses are actively providing the service. So it is a great chance to take the staff nurse recruitment and take part in this noble journey of serving people and encouraging humanity.