Here are the most important current affairs of March 2023, which covers news and information from India, politics, sports, science, technology and more. Keep reading!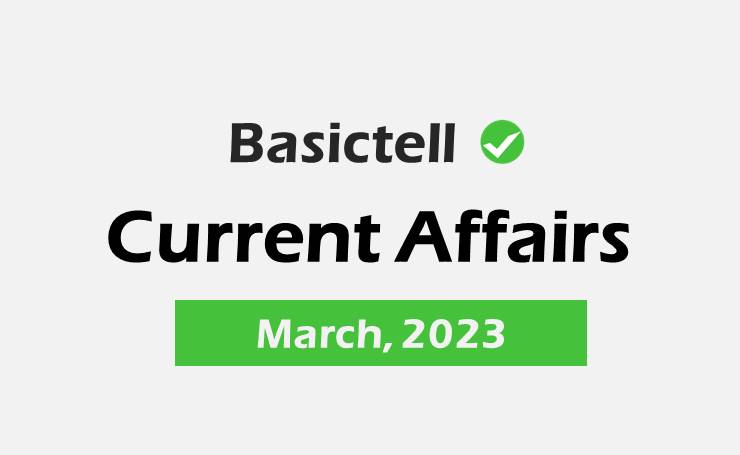 Our hand picked news and affairs are specially designed for the aspirants of various competitive exams like SSC, Banking, PSC, LIC, Railway, Defense and others. Go through all the news and affairs of March 2023 to score well in your upcoming competitive exams.
List of Most Important Current Affairs 2023
Oscars Academy Awards 2023 is scheduled to be held at Dolby Theatre Auditorium in Los Angeles on March 12, 2023.
Prime Minister Narendra Modi expressed his felicitations to the Central Industrial Security Force (CISF) on its 54th 'Raising Day' celebrated on March 10, 2023.
The Chinese Politician Xi Jinping is all set to lead his 3rd five-year term as the President of China.
Assam's Honorable scholar and social scientist Indibor Deuri passes away at the age of 77.
Bollywood Actor-Director Satish Kaushik Passes Away on March 09, 2023 at the age of 66.
Indian-American Solicitor Arun Subramanian Designated as Manhattan District Court Judge.
Union MoS Dr L Murugan Presents National Photography Awards. The list of Winners of the 8th National Photography Awards are here:
Lifetime Achievement Award – Ms Sipra Das
Professional Photographer of the Year Award – Shri Sasi Kumar Ramachandran
Special Mention Awards in the Professional category
Salhoutuonuo Kruse becomes one of the first women after Jakhalu to be appointed to the Nagaland Legislative Assembly.
The National People's Party leader Conrad Sangma took oath today as 13th CM of Meghalaya along with 11 Cabinet Ministers.
The Indian Warship or Frigate namely, INS Trikand Ship, has arrived in Bahrain for the first-ever Participation in US-led International Maritime Exercise.
After 54 long years Karnataka Beats Meghalaya in the 76th National Football Championship to win the Santosh Trophy.
The National Commission for Women (NCW) collaborates with one of the world's leading online streaming platforms, Netflix to organize a conference on the "Role of Media & Entertainment in Empowering Women".
Indian Men's National Hockey Team designates South Africa's Craig Fulton as the New Head Coach on March 3, 2023.
Vietnam elects Vo Van Thuong, the youngest member of the country's Politburo, as its new President in a power shuffle.
World Wildlife Day 2023 Observed on March 3. As per UN the theme of the event was: 'Partnerships for Wildlife Conservation'.
Citibank India's retail business was bought by Axis Bank after final cash consideration of Rs 11,603 crores.
PM Modi Govt Permits Purchase of 70 HTT-40 Aircraft for Indian Armed Forces to fulfill the deficit of aircraft required for the training of newly appointed pilots.
Vice Admiral Dinesh K Tripathi assumed the position of Flag Officer Chiefin-Command in Western Naval Command on February 28, 2023.
Ruling Party Candidate Bola Ahmed Tinubu has been declared as winner of Nigerian Presidential Elections 2023.
The NASA agency recruits Dr Nicola Fox for the prestigious position of Associate Administrator for the Science Department.
Also Read – List of Important Current Affairs of February 2023