Read the most important current affairs of April 2023, covering national and international news and information from India, Science, Sports, Finance, Politics, technology and more.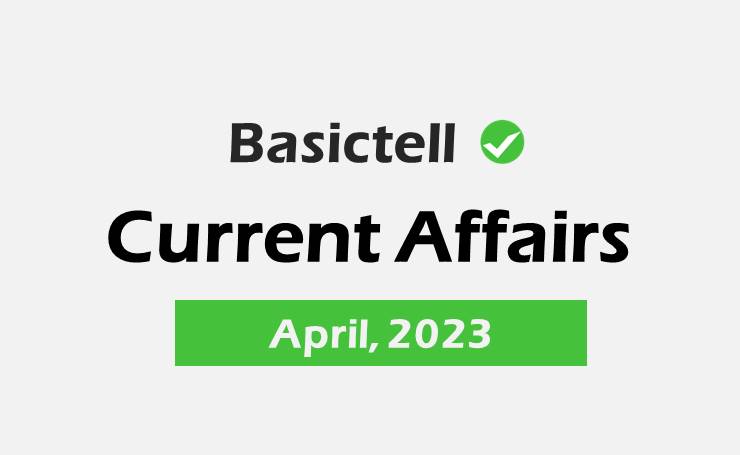 We have designed the special current affairs from top news and events important for the aspirants of various competitive exams like SSC, PSC, Banking, LIC, Railway, Defense and others. Read all the important news and affairs of April 2023 to score well in your upcoming competitive exams.
List of Most Important Current Affairs April 2023
The National Aeronautics and Space Administration (NASA) appoints Four Astronauts for the Artemis II Program, heading towards Lunar Expedition by 2024. The names of these four astronauts are Reid Wiseman, Victor Glover, Jeremy Hansen and Christina Koch.
The owner of Twitter, Elon Musk replaced Blue Bird Logo with a Shiba Inu Doge Meme on Web Twitter.
Indian-born Engineer Amit Kshatriya, to Lead NASA's 'Moon to Mars Program'.
OPEC members including; Saudi Arabia, The UAE, Iraq, Kuwait, and Algeria have declared voluntary oil production cuts of more than one million barrels per day from May to December.
The Italian government has announced its plan to ban the English language and impose heavy fines of up to Rs 89.3 lakh on individuals and organizations that continue to use it.
US and Indian Air Force to engage in 'Cope India' fighter training exercise where India's Sukhoi-30s, made in Russia will be involved in a dogfighting with American F-15 Strike Eagle fighter jets.
As per the report by World Bank, India's GDP growth is predicted to slow down on April 1 to 6.3% from 6.6% in the fiscal year 2024.
Reserve Bank of India (RBI) has appointed Neeraj Nigam as the new executive director (ED). Before that Neeraj Nigam was the regional director of the Bhopal office of the bank.
Bank of Maharashtra (BoM) has inaugurated its first dedicated Branch for Start-ups in Pune, Maharashtra.
Also Read – Current Affairs March 2023