List of presidents in India from 1947 to 2023: Check the full list of Presidents of India with tenure and profile details. This Presidents of India list is in chronological order.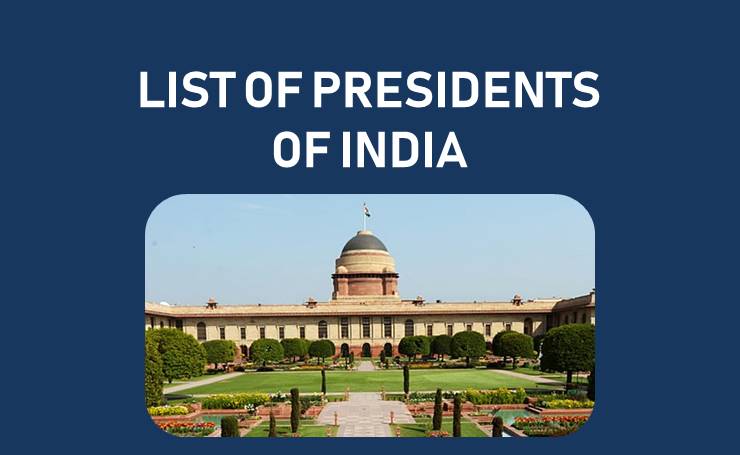 The President is the head of the State in India. He or she is called the first citizen of India. Article 52 of the Indian Constitution states that there shall be a President of India. And as per the Article 53, he or she shall be the executive head of the Union take decisions directly or through officers subordinates to him or her.
The first president of India was Dr. Rajandra Prasad. NDA candidate Draupadi Murmu is the 15th and current President of India.
List of President of India List from 1947 to 2023
The Presidents of India is listed in the chronological order in the table below. You can check the tenure and profile details of the Presidents of India.
| | | | |
| --- | --- | --- | --- |
| Name | From | To | Description |
| 1. Dr. Rajendra Prasad | 26 January 1950 | 13th May 1962 | He was elected twice as the president.He was the president of the constituent assembly before being elected as the first President of republic India. |
| 2. Dr Sarvepalli Radhakrishnan | 13 May 1962 | 13 May 1967 | He was the 2nd President of India.He was awarded Bharat Ratna in 1954. |
| 3. Dr Zakir Hussain | 13 May 1967 | 3 May 1969 | He was the 3rd President of India.He was the shortest-serving Indian president and passed away in office. |
| (Acting) Varahagiri Venkata Giri | 3 May 1969 | 20 July 1969 | He was acting President because of the sudden death of Zakir Hussain in office. |
| (Acting)Mohammad Hidayatullah | 20 July 1969 | 24 August 1969 | He was acting President till V. V. Giri's presidency. |
| 4. Varahagiri Venkata Giri | 24 August 1969 | 24 August 1974 | He was the 4th President of India. |
| 5. Fakhruddin Ali Ahmed | 24 August 1974 | 11 February 1977 | He was the 5th President of India.He was the president during the Emergency and was the second president who died in office. |
| (Acting)Basappa Danappa Jatti | 11 February 1977 | 25 July 1977 | He was the chief minister of Mysore.He served 164 days as President. |
| 6. Neelam Sanjiva Reddy | 25 July 1977 | 25 July 1982 | He was the first CM of Andhra Pradesh.Reddy became the youngest President who occupied Rashtrapati Bhavan and contested twice for the post of president. |
| 7. Giani Zail Singh | 25 July 1982 | 25 July 1987 | He was the CM of Punjab and the Union Home Minister and a member of the Congress party. |
| 8. Ramaswamy Venkataraman | 25 July 1987 | 25 July 1992 | He is a recipient of "Tamra Patra" for his contributions to India's freedom struggle. |
| 9. Shankar Dayal Sharma | 25 July 1992 | 25 July 1997 | He was the 8th Vice President of India before becoming president.The International Bar Association gave him the 'Living Legend of Law Award of Recognition' due to multi-achievements in the legal profession. |
| 10. Kocheril Raman Narayanan | 25 July 1997 | 25 July 2002 | He was the 10th President of India and served as India's ambassador to Thailand, Turkey, China and the USA. |
| 11. Dr. A.P.J. Abdul Kalam | 25 July 2002 | 25 July 2007 | He was the first scientist who took over the post of President and the first President of India who won the most votes.He was awarded the Bharat Ratna in 1997. |
| 12. Pratibha Patil | 25 July 2007 | 25 July 2012 | She was the first woman president of India. |
| 13. Pranab Mukherjee | 25 July 2012 | 25 July 2017 | Pranab Mukherjee was the finance minister of India before taking part in the presidential election.He was awarded the best Parliamentary Award in 1997 and Padma Vibhushan in 2008. |
| 14. Shri Ram Nath Kovind | 25 July 2017 | 21 July 2022 | He is the 14th President of India, and served as the Governor of Bihar. |
| 15. Droupadi Murmu | 21 July 2022 | Working | She is the 15th President of India and was a member of the Bharatiya Janata Party |
Also Read : List of Prime Ministers of India