The most important current affairs of July 2023 for competitive exam aspirants.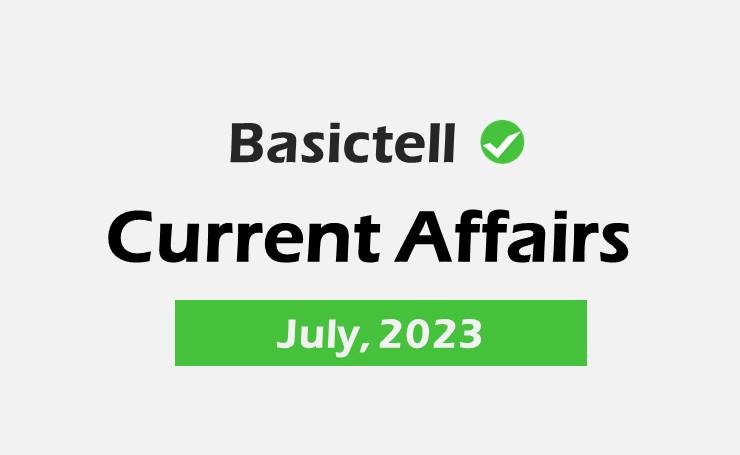 These one-liner current affairs cover news and affairs from India, Politics, Education, Sports, Science, Invention and other topics important for competitive exams, including SSC, PSC, Banking, Railway, insurance, etc.
Important Current Affairs July 2023
ISRO's Successfully launched Chandrayaan-3 on the Moon's South Pole. It is India's third lunar mission.
The Government of India has reduced the Goods and Services Tax (GST) rate on electronic items.
Indian Men's football team secured the SAFF Championship 2023 title at Bengaluru's Sree Kanteerava Stadium.
At the Global Peace Index report 2023, India stands at 126 out of 163 countries. Iceland retained its position as the most peaceful country in the world.
As per the Global Firepower website report United States holds the title of the world's most powerful military system – Russia at 2nd, China at 3rd and India at 4th Position.
At the Wimbledon 2023 Men's Singles Final, Carlos Alcaraz beats four-time defending champion Novak Djokovic.
Tamil Nadu topped the third edition of NITI Aayog's Export Preparedness Index with an overall score of 80.89.
As per the report by Henley Passport Index 2023, Singapore secured the title of the world's most powerful passport. India secured the 80th spot in the Henley Passport Index 2023.
Indian Government has made significant amendments to the rules governing retirement benefits for IAS, IPS and IFoS pensioners.
India's Tiger Population Reaches 3,925 with 6.1% Annual Growth Rate.
IDFC First Bank and IDFC Ltd are expected to get merged in a 155:100 Share exchange ratio.
State Bank of India (SBI) has appointed Kameshwar Rao Kodavanti as the Chief Financial Officer (CFO).
On the occasion of 68th Bank Day on 1st July 2023, the State Bank of India (SBI) launched 34 transaction banking hubs nationwide.
RBI Governor announced the launch of the Centralised Information Management System (CIMS).
State Bank of India (SBI) has appointed Abhijit Chakravorty as the CEO of SBI Card.
Also Read – Current Affairs June 2023