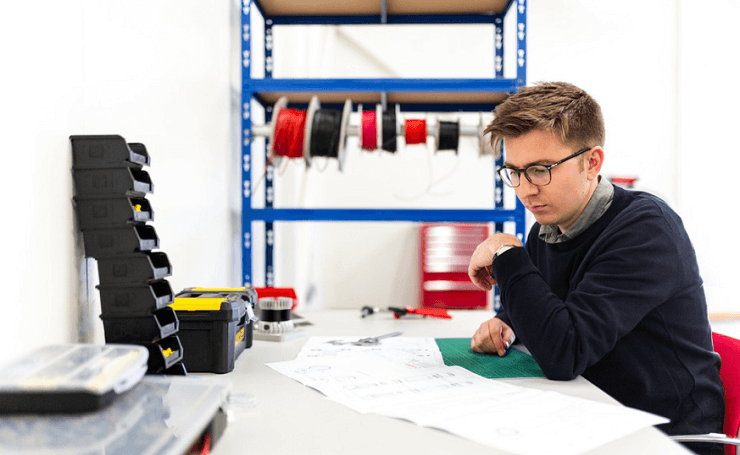 Designing the Future with Mechanical Engineering
One of the broadest and most diverse technical areas of study, mechanical engineering deals with designing, developing, testing, analysing, and maintaining mechanical systems to aid human needs. An interdisciplinary field combining the principles of engineering physics, mathematics and materials science, mechanical engineering is all about devising solutions to make work and life easier.
What does a mechanical engineer do?
A mechanical engineer is responsible for conceptualising innovative technical designs and giving them shape. Their design repertoire ranges from the smallest machines like sensors and switches to large systems like cars and satellites. The products a mechanical engineer develops may help individuals with robotic prostheses or the community with faster transportation or tackle global issues like climate change with alternative power systems.
As a mechanical engineer, you would employ your knowledge and creativity to manoeuvre analytical tools to solve critical problems with innovative designs. You will be responsible for the complete product development life cycle, ensuring that all your designs yield products that are cost-effective, efficient, reliable, and safe.
Depending upon your interests and the area you major in during your qualifying degree, a career in mechanical engineering can get you working with a cross-section of industries, including automation, automobile, energy, ergonomics, mechanics, nanotechnology, robotics, etc. Typically, as a mechanical engineer, you would:
Study real-life problems to conceptualise a practically implementable mechanical solution.
Innovate new mechanical systems or upgrade existing ones using analytical tools and computer-aided design.
Develop prototypes of designs and test them for operational failures.
Analyse test results and devise adequate changes in the design, if required.
Oversee the manufacturing process of the designed product/ machine
Scrutinise existing mechanical systems for design and operation issues and suggest/ implement appropriate fixes.
How Do You Become a Mechanical Engineer?
To become a mechanical engineer, you need an accredited undergraduate degree in mechanical engineering, mechanical engineering technologies or any related field. The curriculum should include the practical application of theoretical knowledge through hands-on exposure to real-life issues during internships and projects.
The standard duration of a B.Tech/ BE in Mechanical Engineering is 4-years, but some institutions offer a 5-year combined qualification of B.Tech and M.Tech.
For further studies in the field, you can pursue a graduate degree and get into research with a PhD.
The Pay Package of a Mechanical Engineer
The average base salary of an entry-level mechanical engineer in India is INR 6.17 pa. International reports suggest a median salary of $90,160 a year for qualified mechanical engineers overseas. Please note that the compensation package grows with experience and expertise.
Getting a Mechanical Engineering Degree
Numerous institutions in India offer Mechanical Engineering degrees as either a Bachelor in Technology or a Bachelor in Engineering. Although most of these institutions accept JEE Main score post class 12th Board exams, for securing admission into the IITs, you will have to score the specified cut-off marks in JEE Advance. Here's a list of top institutions in India offering a degree in mechanical engineering.
Indian Institutes of Technology (16-locations)
National Institutes of Technology (31-locations)
Vellore Institute of Technology
Birla Institute of Technology
Indian Institute Of Engineering Science And Technology, Shibpur
College Of Engineering, Pune
PSG College Of Technology-Coimbatore
Thapar University, Patiala
Thiagaraja College Of Engineering-Madurai
Amrita School Of Engineering
Kalinga Institute Of Industrial Technology
M. S. Ramaiah Institute Of Technology-Bangalore
Qualified mechanical engineers or "designers of the future" are in high demand because of the unprecedented rate at which every walk of life is getting automated. We hope you will be able to embark on a rewarding career in mechanical engineering with the information provided in this article.