Here are the names of famous paintings painted by popular artists around the globe.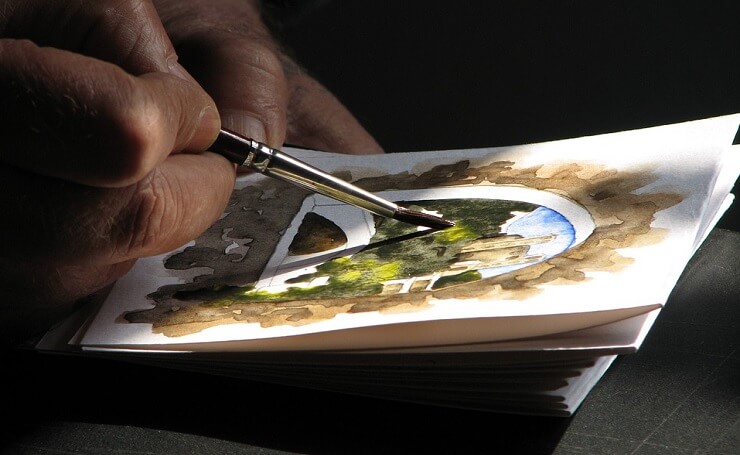 Painting is the form of visual arts. It is the process of applying color and paint to a solid surface. There are many artist and painters all over the world who are well-known for their amazing artwork. Here is the list of most popular paintings by some of the well known artists and painters all over the world.
List of Famous Paintings in the World by Popular Artists
Michelangelo [Italian Artist]
(i) Piata(Day/Night)

(ii) David(Dawn)

(iii) Mosses(Twilight)

(iv) Last Judgement

(v) Potrait and of an old man

(vi) Sleeping quibid

(vii) Madona and Child

(viii) Creation of man

(ix) Adonis

(x) Tragedy

(xi) Bound slave
Go Gn [Painter of France]
(i) Adolisense

(ii) Manaofu Papua

(iii) To Tahi Tianam
Famous Paintings of Leonardo Da Vinci [Italian Artist]
(i) Monalisa

(ii) The Last Supper

(iii) Virgin of the Rocks

(iv) Baby and sent Any
Raphael [Italian Artist]
(i) Madona

(ii) School of Athenes

(iii) Madona of Sanisto

(iv) Madona Dolsadia

(v) Madona del Grandiula

(vi) The Transfiguration of Philosophy

(vii) Virgin Mary
Famous Paintings of Vincent Van Gogh [Painter of Holland]
(i) Loversnest

(ii) Sun Flower

(iii) A Pair of Boots

(iv) Post Man

(v) The La Barcenas

(vi) Land Scapes of avers

(vii) The Prison yard

(viii) Stary Night

(ix) The Post Man Rula

(x) Potato Eaters
Pablo Picasso [Painter of Spain]
(i) Guernica

(ii) Destination to Death

(iii) Bronze Period

(iv) Blue Period

(v) Mother and Child

(vi) Silence in charity

(vii) Boy leading a Horse

(viii) Head of a young Girl

(ix) The bust of Naked Women

(x) The Old Guitarist

(xi) The Blind Man's Meal

(xii) Nude with Necklace

(xiii) Lavi
Rambrant [Painter of Netharland]
(i) Sipol in the Prison

(ii) A Women bathing
Some Popular Paintings by Famous Artists
| Name of the Painting | Artist |
| --- | --- |
| The raft of medusa | Theodore Jerico |
| The Persistance of memory | Salvador Dali |
| Las menynus | Deago Velascage |
| The oath of the horatai | Jack luis David |
| The arnolfini Potrait | Van Ike |
| The Girl with a pearl earing | Yohanes Varmiar |
| The burning of the houses of lords and Commons | William Turner |
| The birth of Venus | Sandro botti Chelli |
| The great wave of Canagoa | Hokusai |
| The night watch | Rambrant |
| Corner of a garden at montjero | Cloth mone |
| Lunch of the boating party | Piere Agustha Renoa |
| Sita haran | Ravi Barman |
| Three girls | Amrita Sergill |
| Nabobarsha | Nandalal basu |
| Sourashtra | Hidar Raja |
| Durga | Bikash Bhattacharya |
| The Magician | Gaganendranath Thakur |
| Last day of Dhritarashtra | Ganesh Paine |
| The boy with a candle | L. Grasso |
Also Read : Famous Books and Authors
You can also read more general knowledge topics on Arts and Literature.