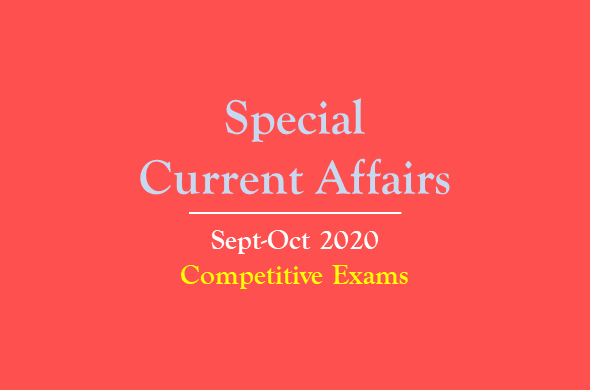 Special Current Affairs questions and answers of Sept-Oct 2020 covering all important national and world news and events. These current Affairs questions of Sept-Oct 2020 are important for all types of competitive exams including; UPSC, SSC, PSC, IBPS, RAILWAY, LIC & other exams.
Read, practice, and learn all these Current Affairs questions answers and gk quiz updates of Sept-Oct 2020.
Practice Special Current Affairs Sept-Oct 2020
Q1. Prime Minister Narendra Modi will inaugurate Responsible AL for Social Empowerment 2020 (RAISE 2020) on October 5. The summit will be organised by-
A. Ministry of Health
B. Ministry of Electronics and Information Technology and NITI Aayog.
Q2. Prime Minister Narendra Modi inauguarated the world's longest highway tunnel at rohtang on 3rd October, 2020. The tunnel is-
A. 8.02 kilometres long
B. 9.02 kilometres long
Q3. The Minister of Social Justice and Empowerment has launched Ambedkar Social Innovation and Incubation Mission for-
A. SC students
B. All students
Q4. United States President Donald Trump and the First Lady ____ has been recently tested positive for Covid-19.
A. Melania Trump
B. Ivanka Trump
Q5. Who was the winner of 2019 Indian Premier League (IPL)?
A. Chennai Super Kings
B. The Mumbai Indians
Q6. Which of the following party has recently launch "Kisan Yatra" from Punjab to protest against the recent farm reform biils?
A. Indian National Congress
B. Aam Aadmi Party
Q7. Sheikh Sabah al-Ahmad-al Sabah has recently passed at the age of 91. He was the ruler of which of the following country?
A. Kuwait
B. UAE
Q8. Which of the following country will launch the world's first asteroid mining robot into space in 2020?
A. India
B. China
Q9. Which of the following company has recently announced about the launching of "mini app" store for Indian developers to reach their product to people?
A. Paytm
B. Flipkart
Q10. Fawzia Koofi recently talks about being nominated for the Nobel Peache Prize. She is the first women deputy speaker in Parliament of-
A. Afghanistan
B. Iran
Answer:
Q1. B
Q2. B
Q3. A
Q4. A
Q5. B
Q6. A
Q7. A
Q8. B
Q9. A
Q10. A