Are you a student? Looking for the best study tables to keep all your essentials at one place and make your study time comfortable.
It does not matter whether you are a boy or girl in school, college, university, or preparing for an exam a good quality study table is one of the must needed thing for every students. Study as long as you can without getting any distraction for accessing things you need while studying.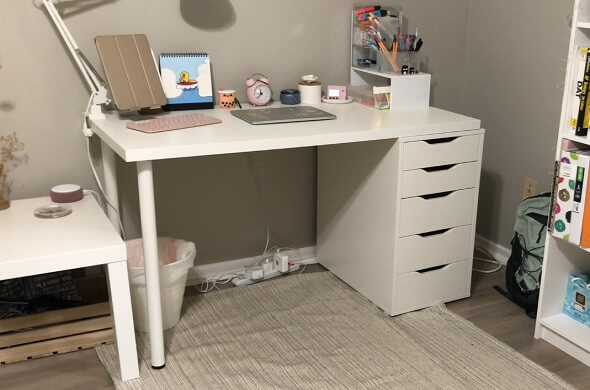 Firstly find out a table that have enough space for you to keep your essentials and access it with ease. Look for the right height you need and an eye friendly comfortable color with portable facility.
Today, we are going to list 5 best study tables for students in this article. They will help you to access things faster, feel comfortable, maintain the focus, and increase your study time.
Best Study Tables for Students
1. LuvBells Smart Multi-Purpose Study Table
LuvBells multipurpose study table/desk is made with high quality Engineerwood top board and powder coated metals tubes which make it compression resistance, durable, and sturdy at the same time. You can not only use this as a study table but also as a laptop table, book writing desk, office work table, TV dinner tray and etc. The smooth surface with anti-slip technology makes this table more comfortable while surfing the internet, doing paint work, playing board games, or serving breakfast on it. There is a Water bottle/Coffee Mug holder in the table which will make your work more focused without need to go to another place. This is a perfect foldable study table for college students, engineering students or those who are in school or university. It is suitable from all ages from kids to old aged senior.
Technical Details & Features:
Portable and Foldable Frame for Easy Carry and Storage
No Assembling Required
Compression Resistance
Smooth Surface
Made with Engineered Wood & Metal
Anti-Slip Legs
Water Bottle/ Coffee Cup Holder
No Batteries Required
Weight 2kg 790g
2. Decornation Zane Wooden Study Table Desk
Decornation Zane Wooden Study Table Desk comes with unique looks and features and allows you to keep books, laptops, and other things without any worry. It is the best wooden study table for students built with MDF material makes it super durable even when it is roughly handled. The legs of the table are made from solid wood which offer good stability to it. The best parts are it is multipurpose, convenient, sturdy in look, smooth surface, and easy to clean so you can keep this table in your home, office or anywhere you want.
Technical Details & Features:
Made with MDF solid wood
Smooth Surface
Legs are built with solid wood for better stability
Modern design for study, home, or office use
Easy to move and clean
Weight is 10 kg
Simple study table for students or working persons
3. Storite Multipurpose Study Table
Storite Multipurpose Study Table comes with a whiteboard paper holding clip makes it perfect for study, keep laptop, office need, bed table and more. The whiteboard can be easily clean with rubber, duster, or cloth. The coolest part is that it is a height adjustable study table for students or any working person. You can adjust the height with a locking system at the bottom. You can also enjoy playing games, reading books, doing office work without getting out of bed. It has four metal legs to do work without any shake. This table can be semi-folded for storage next to sofa or in a closet.
Technical Details & Features:
Steel color and Aluminum Finish
Adjustable Height
Folds into a semi-folded position
Comes with 4 different angles
Perfectly fits a 16 inch laptop
Multipurpose for Study, Home, Office, Dinner
Adjustable in limited space
Portable study table for students or working person
Good for any age whether a child or elder people
Weight 3 kg 930 gm
4. MemeHo Smart Multi-Purpose Study Table
MemeHo Smart Multi-Purpose Study Table comes with a high quality engineered hood top board which makes it compression resistance. With a smooth surface you enjoy surfing the Internet, doing artwork, writing and reading books, use it as a TV dinner tray. It does not require assemble and has foldable frame for hassle free carry and storage. It has anti-slip metal legs so that it does not shake while you are working.
Technical Details & Features:
Engineerwood top board with powder-coated metal tubes
Compression resistance
Multipurpose for study, office, reading, book writing, tv dinner tray
Small in size when folded
No assemble required
1 x laptop stand
Suitable for any age from 5 Year child to 80-year old person
5. Callas Multipurpose Foldable Study Table
Callas Multipurpose Foldable Study Table comes with a water bottle holder perfectly work as a study table, office table, TV dinner tray. It is suitable for any age and can be used with ease. The smooth surface of the table makes it easy to surf the internet, doing paintings, reading books, serving breakfast and more. The portability of the table makes it easy for you to move from one to another place on your bed, sofa, and floor, indoor or outdoor. It also has anti-skid rubber at the bottom of its legs which helps you keep your essentials without any worry.
Technical Details & Features:
Made with MDF, Aluminum Alloy, and Silicon Gel
Smooth surface for comfortably doing task
Cup holder to hold water bottle or coffee mug
Anti-skid rubber at bottom of table legs
Storage drawer to keep essential items
Weight 1 kg only
Conclusion
These are list of best and cheapest study tables for students. These are made with quality materials, light weight and beautifully designed. You can choose any of them that fulfill your needs.