The best grammar checker tool can make your writing perfect. In this article, we will show you the top 10 grammar checkers to avoid any grammatical mistakes and improve your writing.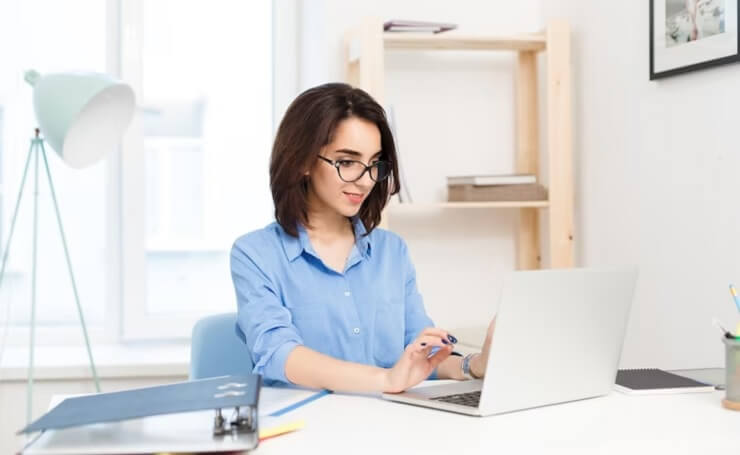 If you're a part of the writing industry or you have to continuously work on writing different content, you require looking for the best grammar checker online. However, finding a great grammar checker is no longer a daunting task as you can find a wide range of options available. These are known as the best English grammar checker tools that can be used for checking blogs, emails, documentation, social media posts, and every other thing.
Grammatical errors in content can be detrimental to writers or a company. It can make or break the impression of a professional. Nothing can be better than producing error-free content with no grammatical mistakes. Since it is sometimes impossible for humans to identify grammatical errors, getting help from the best grammar checker can be the right step.
If this is the first time you have started being a part of this industry, you must look for the best grammar-checking tools online. So here we have compiled the top few best English grammar checker tools.
List of Best Grammar Checkers
Now that we've reviewed the best checker tools available in the market. These will help you to improve your English Writing. Let's dive into the features of these best grammar checker free and premium tools.
1. Grammarly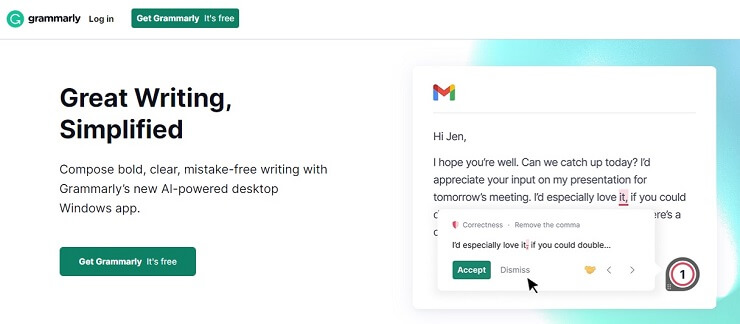 When it comes to finding the best grammar checker online, you must remember Grammarly. This Online grammar checker includes a fantastic set of features that becomes valuable for writers to produce error-free content. The best thing you can get on this online grammar checker is the availability of a plagiarism checker.
Grammarly is an AI-based text checker that can easily read the content and instantly show you grammatical errors. It can check 100,000 characters. You can find different categories present in Grammarly, which include engagement, clarity, delivery, and correctness of the content. Apart from this, you also have the ability to make a clear structure using other features like italics, headings, etc.
2. Ginger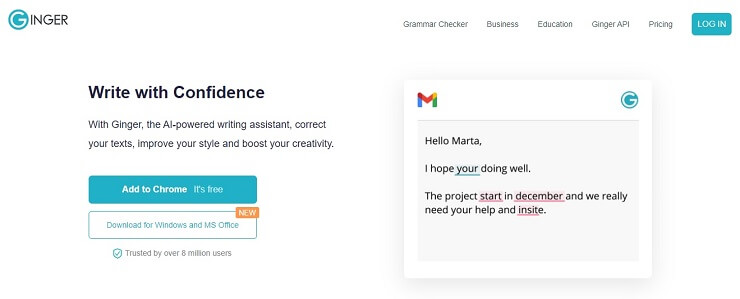 If you need a free and best grammar checker online, you can try your hands on the Ginger application. It has a very clean user interface which makes it easy for anyone to use. This grammar checker tool has the ability to correct mistakes, grammar, and spelling and also replace misused words by changing them with proper ones. You will be able to proofread and also type on this tool at the same time.
With the paid version of the Ginger tool, you can take advantage of an AI-powered collection. It also offers you unlimited synonyms and shows you the way to rephrase sentences. It is an all-rounder software with a translator, personal trainer, and powerful dictionary. The app can also be used with a range of browsers, extensions, and platforms where you require access to proofread content.
3. Hemingway App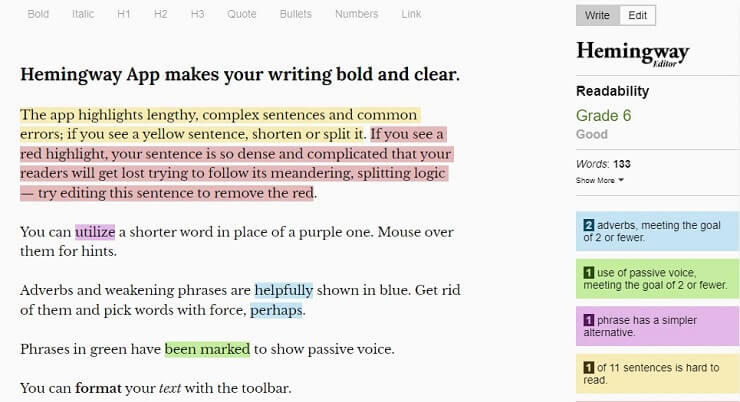 The next best grammar checker tool available online is the Hemingway app. It is considered an excellent choice for writers who want to perfect their content and reduce grammatical errors. It helps to improve content quality significantly. All you need is to visit their website to enter the text and check your score. This English grammar checker uses different colors to highlight, which indicates the problems with the sentences.
It provides a simple alternative to the words to make sure that the content sounds simple. The prime goal of this grammar checker is to help you create excellent quality content which is easy to understand and clear to the readers. It also detects passive voice and provides quick solutions for writers to make straightforward content with active sentences.
4. NounPlus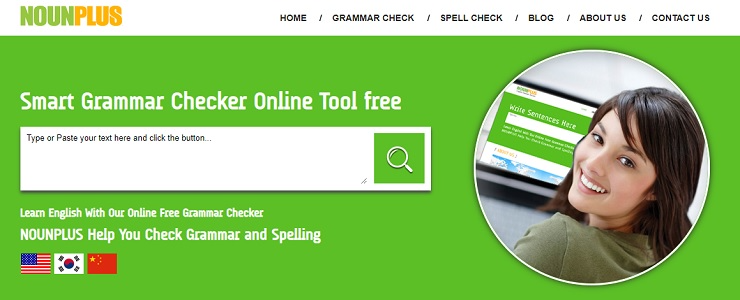 NounPlus is the next best AI plagiarism checker tool that we are talking about. It is effortless to use as all you need is to paste the text on the box and then hit the check button to find out the errors. It helps writers to check different writing aspects and create standard content for the readers.
It makes use of different highlighting colors to show adjectives, subjects, predicates, objects, and several other things to help you understand more about the sentence. The best thing about this grammar checker tool is that it is also available in the mobile app for both Apple and Android smartphones. The variety of languages present makes it a safe choice for writers from different locations.
5. Zoho Writer
Zoho Writer is the next best grammar checker tool available for writers. This is known as being an excellent choice for people as it helps to edit content online. The availability of inbuilt spelling and grammar checkers makes it the right choice. Even when it is free, it has some outstanding features. You will be able to get suggestions like redundancy, subject-verb agreement, punctuation errors, and a lot of other features.
It is a smart writing assistant tool that provides readability analysis. As it is one of the most important things that writers need to make sure of while creating content, this AI-powered writing assistant can be a great help. It also makes sure to get rid of wordy phrases and improve the overall writing quality.
6. Language Tool

You can also choose Language Tool if you want the best English grammar checker online. It helps to check the overall grammar in your content, along with the punctuation. The best part about this online grammar checker is that it supports different languages. This tool can check spelling, style, and grammar within the content and provide the best suggestion to improve the content quality.
It has quite a huge range of features, whereas the free version includes basic punctuation and grammatical checker along with checking the style and providing distraction-free writing. The paid version gives you the freedom to check up to 60,000 characters at a time. You can also stay assured of storing text securely and get the score immediately for your content. If you want to use it with your browser, you can easily do that with its add-on extensions.
7. ProWritingAid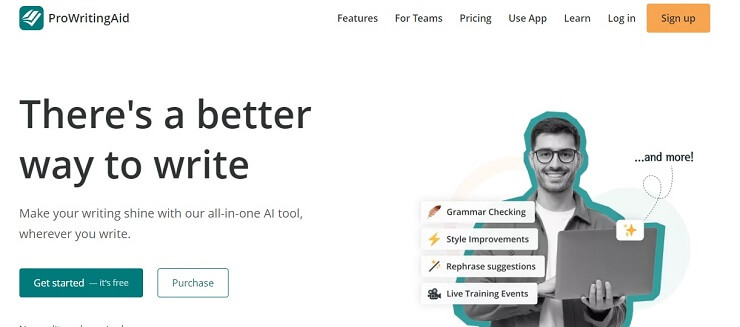 The next best grammar checker tool that we are going to talk about is the Pro Writing Aid. You can easily download this best grammar checker app on your Windows and macOS to make it easier for you to use. Apart from that, you can also install the plug-in on the browser and use it every time you create content.
It includes a range of features where it shows style, summary, transitions, cliches, addiction, overused words, and a lot more. This is not only a grammatical checker but also checks your spelling, along with making sure to check whether the content has a proper writing flow.
8. Reverso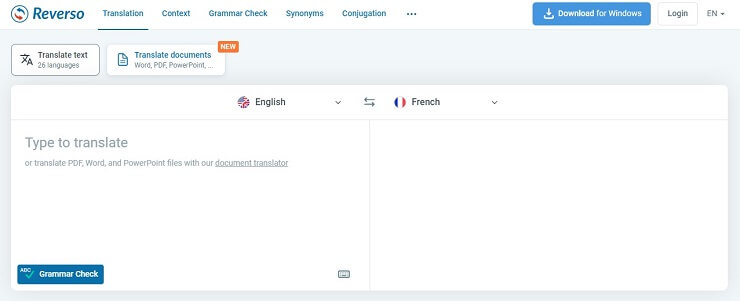 Nothing can be better than choosing a free grammar checker tool online for free. Reverso is the best grammar checker online that would not charge anything from the writers. It has been designed in a way to check grammar and spelling errors and create polished content.
It also consists of an inbuilt translator for easily translating content into a different language. If the language is unknown to you, you can have faith in this best grammar checker tool. The powerful dictionary provides you with different options for synonyms and words to create better content to express better.
9. WhiteSmoke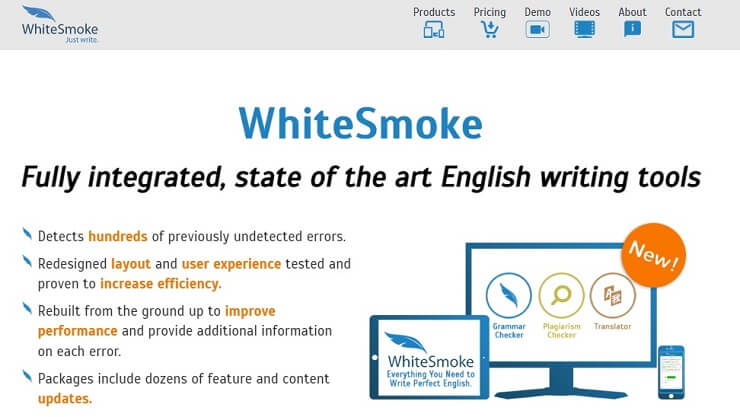 If you are in search of the best grammar checker online tool, you can choose WhiteSmoke. It provides you with the opportunity to check punctuation, style, spelling, and grammar. The best thing about this tool is that you can get an app along with using it on a PC and the web. This versatile grammar checker can be an excellent choice for every writer.
The most differentiating aspect of this tool is that it provides written and video tutorials about the way to enhance the grammar, spelling, and writing quality of your content. It cannot only become a grammar checker tool but also provide you assistance with the way to improve the quality. It includes a wide range of features that can be accessible from the mobile application as well.
10. PaperRater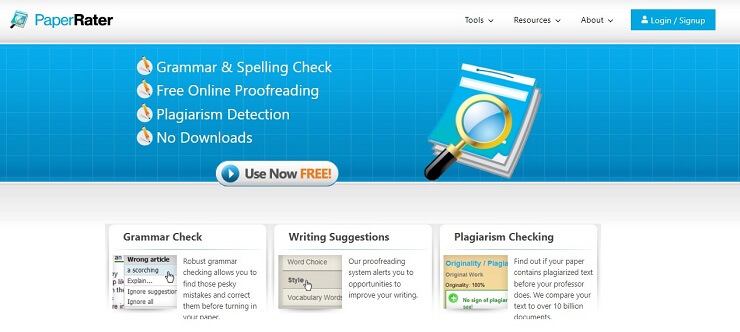 If you are looking for a free yet, the best English grammar checker tool, PaperRater is definitely a thing that you should check. There are many beginner writers who would not be able to afford premium tools, so they can choose this free tool and enjoy the wide range of features and advantages. This is considered one of the best grammar checker tools because of providing the ultimate freedom to detect spelling and grammar mistakes, vocabulary, and plagiarism at the same time.
As writers mostly use Microsoft Word or such kind of software for creating content, using this fantastic tool can be a great helping hand. It can proofread your content and make sure that it has a quality that can outshine others. The accurate suggestions help to polish and create solid content.
Conclusion
Now that you have gathered ideas about some of the best grammar checker tools online, it will be easier for you to choose and decide. These grammar checkers are more than just checking your grammatical errors. All of these tools have been designed with an inbuilt plagiarism checker and spelling checker, along with providing you information about different other aspects of content to create a more polished and refined write-up.
Also Read:
DISCLAIMER: The Basictell Picks team writes about stuff we think you will like. Basictell has affiliate partnerships, so we may receive a commission when you purchase/signup through our links. The product prices mentioned in the article may vary.