Are you looking for the best coffee maker to make instant coffee? Here is a list of the most popular coffee makers for students in India.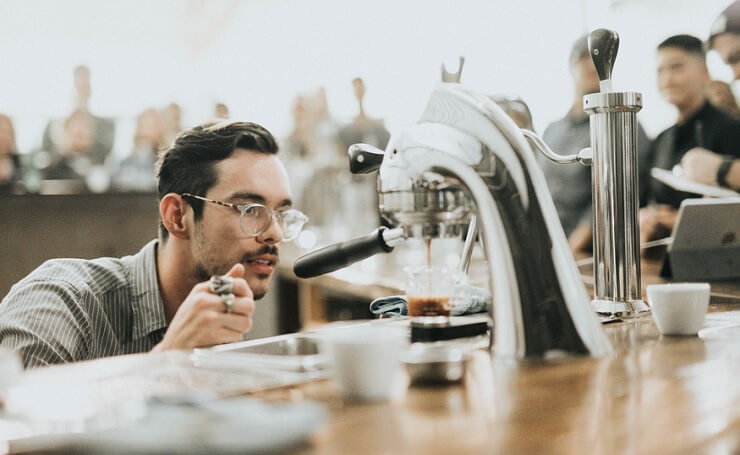 Let's face that, college without a coffee maker is definitely not complete. A compact and affordable coffee maker for students can be the best choice. No doubt that a sip of coffee is enough to wake up any sleepyhead. However, a market full of options can spoil you. Therefore today, we will talk about some of the affordable yet efficient choices available in the market.
Our Top Picks:
Overall Best – InstaCuppa French Press
InstaCuppa French Press Coffee Maker with 4-Part Superior Filtration 600 ML capacity and made with stainless steel.
Best Drip Coffee Maker – Amazon Brand Solimo Coffee Maker
The Amazon Brand Solimo 650 Watt Drip Coffee Maker comes with Borosilicate Carafe and has 740 millilitres of capacity made with plastic and metal.
Special Pick of the Month – AGARO Royal 4 Big Cups Drip Coffee Maker
AGARO Royal 4 Big Cups Drip Coffee Maker has a modern style, 600 Ml Borosilicate Glass Carafe Jar, 750W machine, Water tank with Level Indicator, Brewer Machine with Cone Filter, Auto Shut Off, Stainless Steel BPA free Jar, perfect for personal & home.
Overview of the Best Coffee Maker for Students in India
A lot of factors are taken into consideration to find out the best coffee maker for students. Since it can be perplexing for you to choose one, let us check out the best coffee makers that can perform unstoppable duties without facing any issues. Following are the 7 top best coffee makers that we have found after making a thorough analysis.
So, without any further ado, let us find out the top 7 names in the market.
Best Coffee Maker for Students in India
We have picked the most affordable, small in size, and easy-to-use coffee maker for you. Check the technical specification of each of the products below.
If you are looking for a high-quality coffee maker that can easily adjust and fit anywhere, irrespective of the dimension, this is a great choice. Coming from the brand Pigeon, this compact and small coffee maker can offer the best coffee for everyone and every time.
This has a plastic body that has been integrated with advanced brewing technology. The inclusion of a mesh filter in this coffee maker makes sure that you are served with the best coffee. Without doing much, you can have a great coffee every time.
The 600Watt heating plate included in this coffee maker ensures fast heating and is served with a hot cup of coffee every time. It can contain 600ml at a time and ensures serving as many students as possible. It can be the best choice if you are a travel enthusiast.
2. InstaCuppa French Press Coffee Maker with 4-Part Superior Filtration 600 ML – Click here for the Amazon Deal
InstaCuppa is the name of a stylish choice of coffee maker. This is a small coffee maker that can easily get noticed. The coffee maker has been created with premium quality construction. This is one stylish model that everyone needs to enjoy a fantastic cup of coffee.
The inclusion of the measurement markings of the glass offers easy understanding. Besides, you will be able to enjoy superior quality filtration for up to 4 levels. The coffee prepared can be immediately served without the need for further filtration because of the availability of stainless steel mesh filters.
It can offer 4 cups of coffee to students at a time. Whether you are looking for a brewing cup of Latte, Cappuccino, Americano, or Espresso, this coffee machine can serve hot cups of coffee. You will also be offered a coffee scoop to give you the correct measurement.
Amazon Brand is one of the best choices that come with assured quality. It is a powerful and compact model that can be the best choice for office and home use. It has been powered with 650 watts to ensure that you acquire the best cup of coffee every time.
This coffee maker has the capacity to brew 5 cups of coffee at a time. This highly efficient yet small coffee maker has been manufactured with the best quality materials. It has a glass borosilicate carafe. It comes with a removable and reusable filter that would not need any additional filter papers. It has a removable basket for convenience.
The auto-keep-warm functionality of this coffee maker makes it a good choice for enjoying coffee instantly and anytime. You would not need professional assistance as it is easy to set up and use. You need to hand wash it and not use it in the dishwater.
4. Havells Crystal 600-Watt Stainless Steel Tea and Coffee Maker – Click here for the Amazon Deal
Havells has had its reputation for years now for offering comfort and convenience to its users. This Havells Crystal coffee maker is convenient and fun to use. It has been included with a thermostat that ensures brewing coffee within a bit of time. You can also stay assured about its consumption of very little energy.
It comes with a robust switch along with a red indicator. The red indicator is provided to give you a fair idea if the machine is ready or not. When you find the red switch turning off, it means that your coffee is ready to get served.
You will also find a filter basket available that can help you to make filtration with ease. The stainless steel filter is corrosion-resistant and strong. The transparent glass carafe offers you a chance to check the brew and enjoy a great cup of coffee.
5. Black & Decker Appliances DCM25-IN 330-Watt 1-Cup Coffee Maker – Click here for the Amazon Deal
If you are looking for a small coffee machine that can be transported from one place to another anytime, then this is a fantastic choice. The hassle-free maintenance with a pull-out filter holder ensures easy maintenance. This is a great choice if you want to save space and carry it.
The durable and reusable filter included in this coffee maker offers a great result. It has a permanent filter included in it, which has unbelievable durability. You can also stay assured about its reusability after cleaning.
It has an auto shut-off that offers peace of mind. You can stay assured that there will be no power wastage. A safe experience can be a good choice. It will again get activated when the brewing is done. It also comes with a huge 2-year of warranty in it.
Wacaco Nanopresso Portable Coffee Maker has a powerful pumping system that needs no electricity or battery in it. This can work well with different types of ground coffee. All you need is to add boiling water before preparing coffee. The pump manually creates your favourite coffee.
It has an ergonomic design with a short length that makes it the best travel partner for coffee lovers. The design is engineered to maintain its lightweight. It has the ability to hold 80ml lines and is protected with a detachable cup top.
The parts have a heatsink pattern to prevent hand burn. Buy this small coffee maker and enjoy a cup of espresso anywhere and anytime.
7. Expresso Stainless Steel South Indian Filter Coffee/Kaapi Drip Maker 400 ml – Click here for the Amazon Deal
This Expresso Stainless Steel coffee maker has been created with stainless steel material. It consists of 1 closure plate, 1 drip plate, and 2 cups. You can acquire and enjoy a beautiful South Indian aroma with this coffee filter.
You can ensure easy cleaning due to the design. Besides, replacing coffee powder does not take much. So enjoy the beautiful South Indian aroma of coffee with this coffee maker. This can be a great coffee maker for students due to its affordability and usability.
Conclusion
So now that you have acquired some details of the best coffee makers. Hopefully, you can choose one. Every name included ensures ease of usage, budget-friendly price and the best taste for college students. Choose the right one and enjoy a cup of hot coffee.
DISCLAIMER: The Basictell Picks team writes about stuff we think you will like. Basictell has affiliate partnerships, so we may receive a commission when you purchase/signup through our links. The product prices mentioned in the article may vary.